Protect yourself from unexpected repairs with a
CARCHEX Protection Plan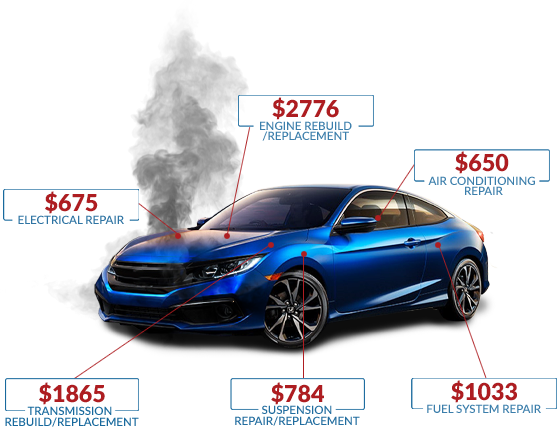 Get Started Today for as Low as

$99


Call us today for your FREE quote!
877-CARCHEX

Monday—Friday 9am to 9pm EST • Saturday 10am to 7pm EST
TELL US ABOUT YOUR VEHICLE & YOURSELF
Additional CARCHEX Plan Benefits
Industry Leading Customer Ratings
Vehicle Protection Plans On Your Terms
Titanium
Choose the highest level of CARCHEX coverage available which provides the maximum breakdown protection for your vehicle.
Platinum
The highest level of stated-component coverage with hundreds of components covered, including all major systems.
Gold
Comprehensive coverage and flexible terms at practical prices for all major systems and are a good fit for vehicles with over 90,000 miles.
Silver
Provides essential coverage to the major systems of your vehicle. These programs cover much more than just your basic powertrain.
Bronze
Coverage for the major systems on your vehicle from the most common and expensive repairs to the engine and transmission.
| | | | | | |
| --- | --- | --- | --- | --- | --- |
| | Titanium | Platinum | Gold | Silver | Bronze |
| Engine | | | | | |
| Transmission | | | | | |
| Drive Axle | | | | | |
| Transfer Case | | | | | |
| Turbo/Supercharge | | | | | |
| Cooling | | | | | |
| Fuel Delivery | | | | | |
| Seals and Gaskets | | | | | |
| Wear and Tear | | | | | |
| Navigation/GPS* | | | | | |
| Market Labor Rate* | | | | | |
| Electrical | | | | | |
| Air Conditioning | | | | | |
| Steering | | | | | |
| Suspension | | | | | |
| Brakes | | | | | |
| Enhanced Electronics | | | | | |
| Interior/Exterior Parts | | | | | |
*Optional